Events
Currently, there are no upcoming events. Please check again at a later time.
A Boat Lift Manufacturer at the Forefront of ShoreFront
Who we are is what defines us. Years of experience has made ShoreStation® what it is today; the most trusted brand of boat lifts and docks!
Heritage
Through nearly 60 years of making boat lifts and docks, we have designed and redesigned our docks to be one of the best possible product for an ever-changing industry. Every new product and innovation is driven by the goal of helping our customers maximize their time on the water and enjoy the waterfront lifestyle.
Why ShoreStation®?
When founder Byron Godbersen designed the first ShoreStation back in 1959, he engineered it to work smarter than other boat lifts, but he also did one other thing – he over-built it. Heavier materials, stronger winches, better cables. Why all the fuss? Well, Byron believed that weekends at the lake should be spent relaxing with the family, not fixing broken equipment. With ShoreStation's high-quality boat lifts and docks, you can relax and spend your weekends on the water doing what you love.
History
Midwest Industries Inc. was founded in 1954 in Ida Grove, Iowa.

Founder Byron Godbersen's first invention, the Bolster lift, used hydraulics to tilt grain bins that had been traditionally emptied by hand. The wildly successful product sparked an entire line of Midwest farm equipment.

Today production is focused exclusively on ShoreLand'r® Trailers and ShoreStation® Lakefront Systems.

The company's Ida Grove headquarters includes a 340,000 square-foot, state-of-the-art manufacturing facility, distribution warehouse, convention center and private test lake. Midwest employs over 300 people and their products are distributed throughout the U.S. and Canada, and internationally to countries in Europe and Asia. A full list of ShoreStation dealers can be found here.

For more information on Midwest Industries Heritage visit www.midwestindustries.com.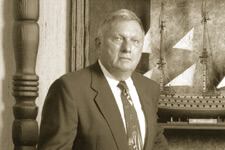 Mission Statement
ShoreStation® is dedicated to providing customers with the highest quality of waterfront equipment through innovative engineering and technology. "Build it best or don't build it at all" was the motto of founder Byron Godbersen, and it continues to be the core principle that drives ShoreStation® to be the market leader since 1959.
Manufacturing Capabilities
With almost 400,000 square feet under roof, ShoreStation is the largest boat lift manufacturing facility in the country. We have complete process and quality control because we fabricate our own parts from the highest quality raw materials. We continue to invest in the most modernized equipment such as CNC, robotics, lasers, and other fabrication equipment.
Service & Support
Our strongest asset is our people and the service and support that we provide. Our factory call center and warranty department are dedicated to assisting dealers and end-users alike. We have also recently launched our new online parts support system, ARI PartSmart to help you efficiently find what you are looking for. Here you can easily look up part numbers, specifications, manuals, and other pertinent technical information.
In order to keep our customers up-to-date on all of our recent innovations and changes, we hold annual ShoreStation® Service Schools and webinars for continuing education. Our large geographic footprint of 24 regional warehouses and distribution centers provides product availability wherever you are.
Reputation
ShoreStation® is the most trusted and recognized brand in the industry. "The original since 1959" keeps getting better every year with our commitment to continuous improvement. Our global presence is solidified with a strong network of national and international dealers and distributors. We offer the strongest warranty in the industry, and stand behind our products with pride and passion. See what customers are saying about ShoreStation Boat House Lifts.
We also manufacture the most trusted and recognized brand of boat trailers - ShoreLand'r®.