Discover our time-tested sectional dock
The difference is in the details. ShoreStation's Dock is designed to be the heart of your lake home, with an easy, simple design and versatility that allows you to create different layouts from season to season.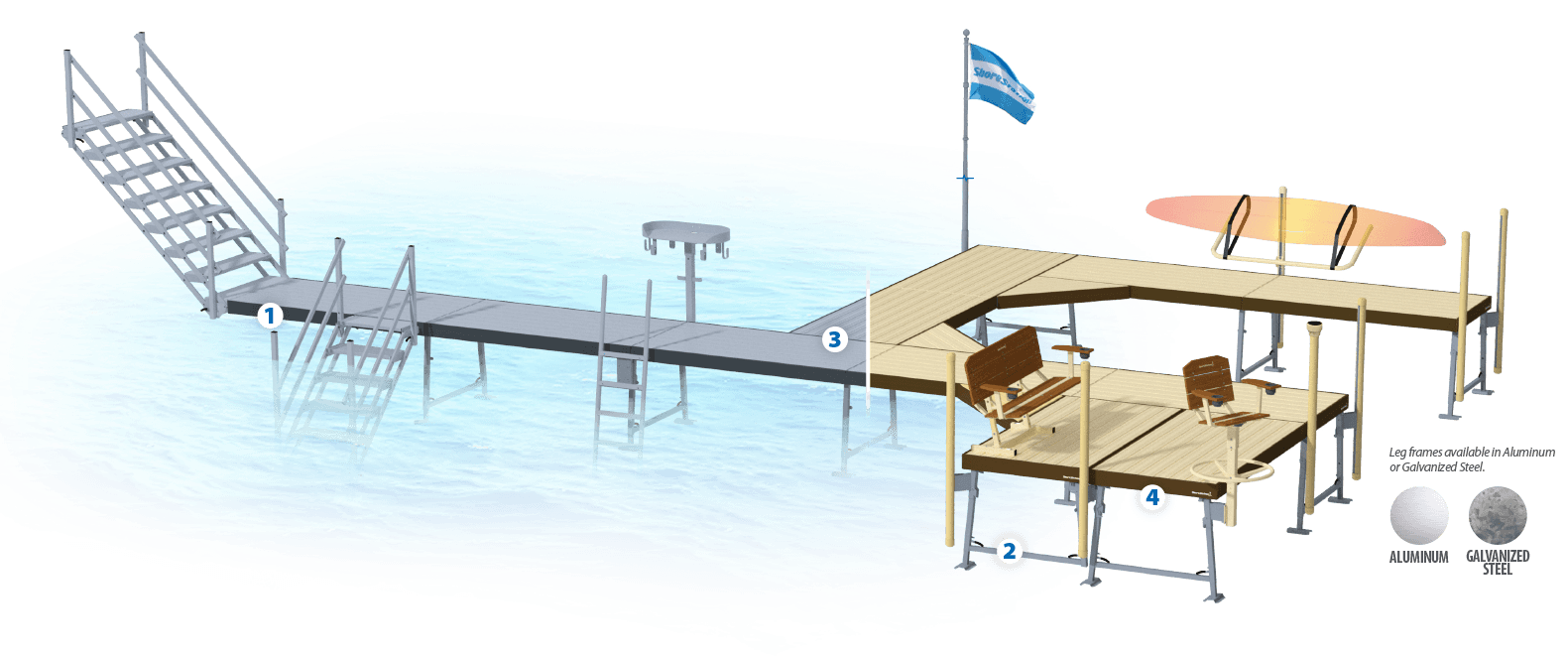 1
More Time to Play
Powder-coated aluminum deck planks and sideboards. Heavy-duty galvanized or aluminum leg frames. Aluminum leg extensions. Stainless steel hardware.
See anything on this list that requires regular maintenance or work of any kind?.
Nope... (that's kinda the idea.)
2
Peace of Mind
Since 1959, the ShoreStation name has stood for rugged, dependable waterfront equipment. Rest assured that these products are designed for the long haul and backed by one of the best warranties in the business.
3
Versatility for the Way You Live
Your dock has to be able to grow and adapt to fit your lifestyle. The modular design of Genuine ShoreStation Dock gives you the versatility to rearrange your sections and create different layouts from season to season. Add sections and new accessories as you go.
4
Looks Do Matter
Okay, admit it—you have cruised around the lake checking out your neighbors' homes. You understand how a nice looking dock can make or break your lakefront. These wide sideboards and color-matched accessories create a clean, traditional look that never goes out of style.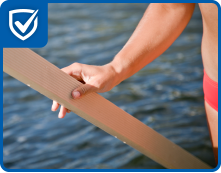 Safe For Everyone
Your dock needs to be safe and enjoyable for everyone. To make that happen you've got to have the details right, like the narrow width and sturdy handrails on this Aqua Step. It provides a safe route in and out of the water for kids, seniors, and dogs.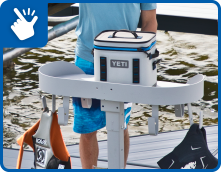 Accessories Galore
Go ahead—express yourself! The wide variety of accessories makes it easy to get creative and customize your layout. From functional items like lights, to decorative accents such as flagpoles—they're all designed to look right, fit right, and work right. That's because they're all Genuine ShoreStation!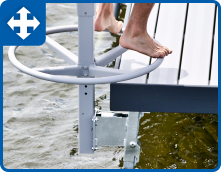 Keepin' it Simple
Everything about this dock has been engineered to be easy... Accessories mount quickly and easily without tools. Sections lock together with a simple spring-loaded pin mechanism. Leg height can be adjusted without tools. All this means is fewer headaches for you.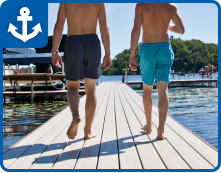 Stability = Safety
Flimsy, unstable dock can be a real hazard, so play it safe with rock-solid Genuine ShoreStation Dock. This A-Frame stance provides a wider base for a level of stability and safety you won't find in ordinary docks.
Attractive. For Shore.
Be the envy of any lakefront! With ShoreStation's virtually endless layout options (from various section widths to freestanding swim platforms), you can create a true one-of-a-kind dock design that fits your every need on the water's edge. Bound to turn heads, you'll get the dock you've always wanted!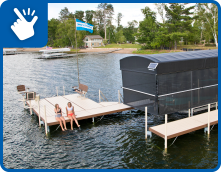 The Perfect Fit
Whether you want more play space, seating area, or places to park your water toys, ShoreStation allows you to configure or expand your lakefront system around your lifestyle.
Endless Possibilities
From the single-family home to the large marina, the ShoreStation dock offers unmatched versatility and expandability for nearly all types of lakefront property.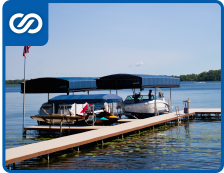 Complement Your Shorefront
Powder-coated aluminum planking and sideboards for color that lasts a lifetime.

Equipped. To Enjoy.
Kick back and relax! Easily set the stage for a perfect day out on the lake with ShoreStation's line of patented "Quick-as-a-Click" connector dock accessories. From ladders and bumpers to gear towers and benches, you'll be able to easily attach or remove these convenient accessories. Constructed out of the finest materials, each accessory is specially designed to be useful and complement the attention-grabbing appearance of your personalized dock.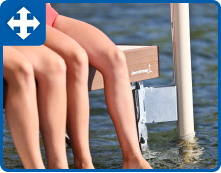 Quick-as-a-Click
Quickly install or relocate various ShoreStation accessories with our patented, tool-free, "Quick-as-a-Click" connector.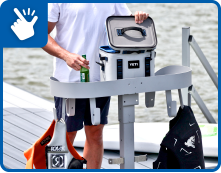 Convenience In Mind
Sporting an oversized table-top, heavy-duty storage hooks, and an integrated garbage can mounting location, this ShoreStation gear tower is a must-have for any lakeshore dweller.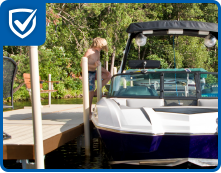 Worry-free landings
Put your worries out-to-sea with the quick attaching dock bumper. Designed to be durable, yet flexible, to protect your craft both above and below the waterline.
Time-tested. Simplicity.
Experience total peace of mind! Live it up on a meticulously-crafted dock that's maintenance-free, safety consciousness, and can seamlessly integrate with ShoreStation Hydraulic Boat Lifts. From galvanized steel or aluminum leg frames to the stainless steel hardware, everything is designed with durability and simplicity in mind.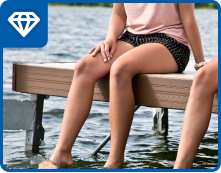 Maintenance-free
Designed to endure the elements, our powder-coated aluminum planking and sideboards offer unmatched durability and color that lasts a lifetime.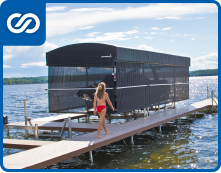 The Perfect Match
Seamlessly integrate your dock with an industry-leading ShoreStation Hydraulic Boat Lift for worry-free boating.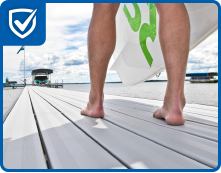 Cool To The Touch
Our non-skid finish planking stays cool to the touch on those hot summer days, while eliminating splinters, sharp edges or nails!