Boat lifts that elevate your summer.
You anticipate your time on the water all year. So when summer arrives, every moment is precious. With ShoreStation's hydraulic boat lifts, you can be in or out of the water in under a minute. A fast lift translates to more time for making memories on the water.
Find Your Fit
Whether your watercraft is a 35' deck boat, 15' bass boat, or a 900 lb. PWC, ShoreStation provides a lift that properly fits the hull. With over 60+ years in the industry we've perfected the way our lifts cradle the watercrafts they carry

Boat Lifts
Simple and swift, our lifts do the work for you. Never miss another day on the water, floating with the currents or reeling in the catch of the day.
*Available up to 15,000 lb capacity
View Boat Lifts

Pontoon Lifts
Spend your moments relaxing with family and friends; hassle free, worry free. Designed for larger pontoons, our lifts offer greater support with three cradle options to choose from.
Available in 3,000 lb. to 10,000 lb. capacity
View Pontoon Lifts

PWC Lifts
Designed to handle some of today's largest personal watercraft.
Available up to 1500 lb. capacity.
View PWC Lifts
Simple and swift from launch to lift.
ShoreStation lifts are some of the fastest on the market — but they're more than that. From the effortless centering of the load guides to the reliable boat stops, ShoreStation allows you to focus on the reason you're at the lake in the first place: to relax and enjoy the water.
1
Revolution Series Canopy Cover
Equipped with exceptional weather resistant fabric and breathable SunTex 80 woven mesh ends for maximum protection and durability, the Revolution Series Canopy is the most innovative canopy on the market.
2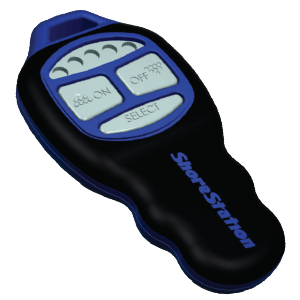 Wireless Remote
ShoreStation® has everything you need to create the custom waterfront of your dreams. Raise and lower your ShoreStation Hydraulic Lift or ShoreScreen with this handy remote transmitter.
3
Quickly Secures Boat
When you have a Hydraulic Lift, there's no need to worry about wind and waves getting in your way. This lift is the fastest on the market and will give you confidence to safely land and secure your boat in less than ideal conditions.
4
Built-in Safeguards
ShoreStation's safeguards against failure include pulling cables that eliminate cable fatigue and a system designed to stall before lifting damaging loads.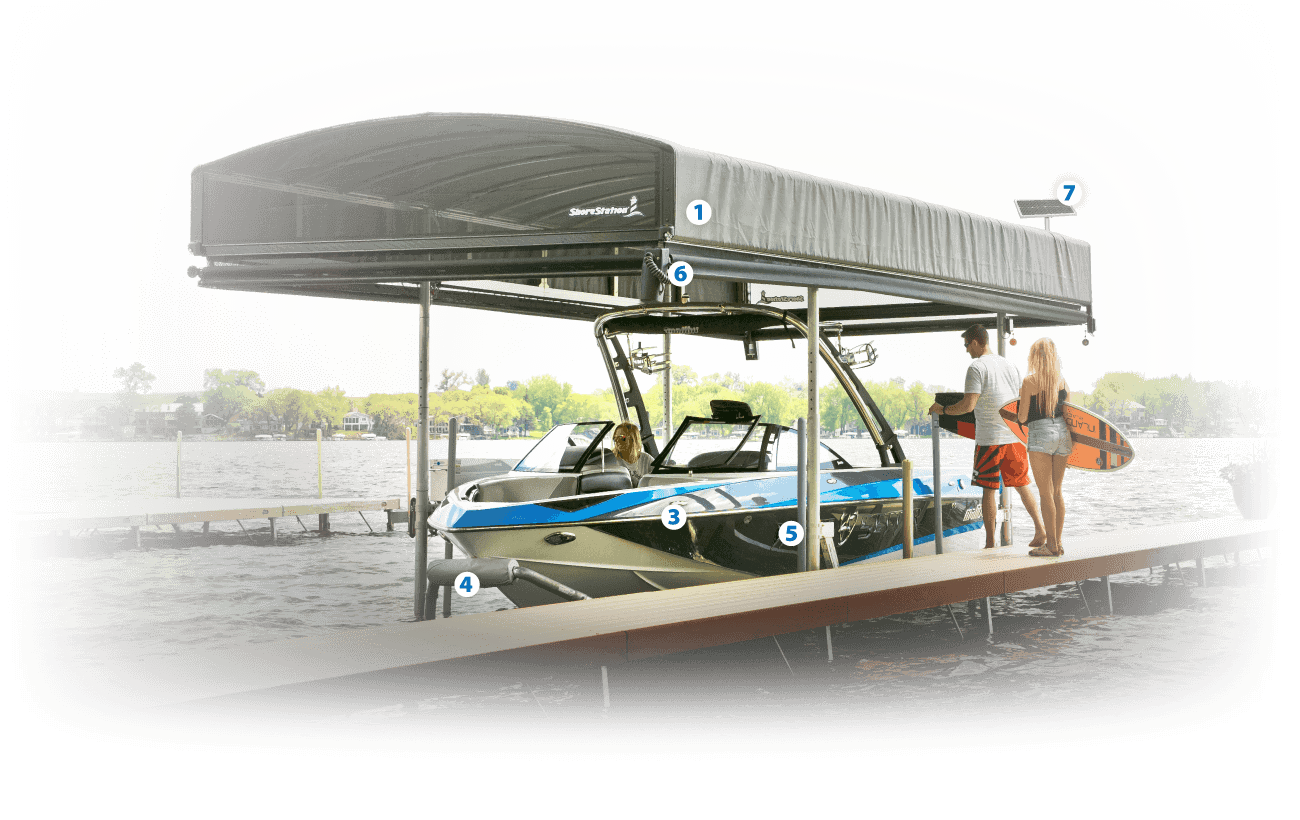 5
Worry Free Landing
ShoreStation's system of quality products ensures that your time is spent enjoying those special moments, rather than wasted on worry or maintenance issues. Bring your boat to a stop in the perfect position every time. Our bow and motor stops help prevent your boat from overrunning the lift, while our Boat Guides allow for easy entrance into your lift in wind and waves.
6
From Covered to Uncovered in Seconds
We know how much your watercraft means to you and how you want to keep it in showroom condition. With our ShoreScreen Power Curtain, there's no more hassling with traditional heavy boat covers and snaps. Protect your boat from damaging UV rays, and create a barrier against wind-blown debris, insects and birds to ensure your boat stays looking great, year after year.
7
Solar Battery Charging System
For more than 60 years, ShoreStation has manufactured some of the most widely-used waterfront products that are proven to perform, time and time again. Easily recharge your lift battery with clean, free solar power. Our speedy 20 watt charger features solar regulator drainage protection, saving your battery from permanent damage caused by overcharging.
A Better Boat Lift.
From hydraulic to manual, select your boat lift system.
From the simplicity of our manual lift to the advanced safety of our hydraulic boat lift, ShoreStation continues elevating standards for boat lift manufacturers.
View All Power Systems